Internship and Research Opportunities
Many of our students look for internships over summers, and many also want to undertake research while at Cornell. We strongly encourage both.  Below are some resources that you may find useful in each.
In looking for either research or internships, remember that statistics is a small field, and there are few programs or labs that explicitly target statistics majors. But many programs and labs will respond if you apply. Persistence and useful skills are key.
Cornell Resources
CALS Career Services, CIS Career Services, Cornell Career Services are particularly helpful for resume preparation, job search strategies etc.
Cornell Handshake lists positions outside Cornell. These are not always directly targeted at statisticians, so don't be too specific in your search criteria. 
On campus jobs and research can be found through Student Employment and the Cornell Undergraduate Research Board lists some opportunities, as does the Office of Undergraduate Research and the Office of Undergraduate Biology. But most students who conduct research obtained positions by contacting professors directly.
You may also want to see career results from our MPS program here.
Note that the MPS career resources are often still very relevant to undergraduates, in particular this page, which shows the companies that offer college-to-career hire programs/resources. This Q&A has been helpful to students, too.
CUE Links is a Cornell Universitywide platform that promotes connections between students and alumni or friends who are eager to share their knowledge and experiences. 
The Survey Research Institute employs students to carry out phone surveys. This is a great way to see the realities of data collection.
Check out this page on jobscan to help you tweak your resume.
Student Groups at Cornell
Cornell Sports Business Society
Cornell Statistics Alumni LinkedIn Group
External Resources
Various companies provide listsings of opportunities, including The American Statistical Association list of internships (mostly aimed at graduate students, but with some undergraduate positions to), Simply Hired, indeed.com, LinkedIn, ICrunchData, Glass Door, ZipRecruiter and Kaggle.com. 
There are also Research Experience for Undergraduate (REU) Programs, like NSF, UCLA Research in Industry Projects, Data Science for the Social Good Summer Programs, Federal Research Internship Programs, Rice University Summer Research, as well as at NIST.
Internship Programs Our Students Have Found:  Visa Inc., St. Peter's Health Partners, Measure of America, Voices of African Mothers in Ghana, Cancer Resource Center - Finger Lakes, NERA economic consulting, JP Morgan TAP (Technology Analysis Program), Battelle Memorial Institute, CSOP Asset Management, Abbvie Inc., Symantec Inc, Facebook, Putnam Investments, Lazard, Regeneron Pharmaceuticals, The Dedham Group, Ernst & Young, Shell Energy, IBM, Ernst and Young (Assurance Services), Summer on the Cuyahoga, PwC advisory, AIG Investments, Cross Shore Capital Management, Tapia Center at Rice University, Braze, CUBRC, Inc., Habitat for Humanity of Minnesota, and IBM (Market Development and Insights Intern). 
Summer Research Programs Our Students Have Found: Northwell Health, Columbia University's Lamont Facility, Icahn School of Medicine, University of Chicago Fama-Miller Research Center, NASA Ames Research Center, and the MIT Lincoln Lab.     
Advice from past students on landing internships:
• Using Handshake is a great tool, but don't rely on it completely. Use other sources.
• Apply apply apply! Even to things you don't necessarily have all the qualifications for. A stats major can be applied to so many different types of jobs.
• If you are looking to do Biostatistcs, using "Bioinformatics" as search criteria is very useful. Also consider synonyms like "Data Analytics" and "Data Science."
• The law of large numbers will work in your favor eventually.
• Know programming languages, statistical languages well
• It can be very helpful to know at least one commercial statistical computing program, such as SAS, SPSS or R and start early, especially if you're into data science. You need to find a way to build experience in programming and statistics if you want to break into data science.
• Start early in the internship process (about a year before) and network with people, whether that be friends of parents or distant relatives.
• Persistence is key, especially as an underclassmen, but really at all stages. Apply to as many internships as you can, and apply to a diverse group of them. Finding an internship can be very challenging at first, and it becomes much more challenging when you only apply to the handful of jobs that everyone at Cornell and similar universities wants.
• Don't be afraid to do something unconventional, as it will be just as, if not more, likely to bring you the career opportunities you desire.
• Cast a wide net, keep an open mind, and do interview prep with Career Services.
• Start early!
• Handshake and on campus recruiting are very helpful!
• Start early and seek as much help as possible. You will receive many rejections but remember that all you need is one acceptance to get your foot in the door. It is also important to take advantage of courses in which you can learn any skills that your ideal internship is looking for.
• Students should be talk to start networking as early as their freshman year if they want to have a stronger probability of securing a more favorable summer opportunity.
• Take more computer science courses, and take more math.
• Handshake is very useful because it lets you narrow down your search by major, class year, location, and industry. I would suggest applying to as many internships as possible and also applying several weeks before the deadline.
• Apply to small businesses - less competition and someone is actually reading your resume, not just endless application black-holes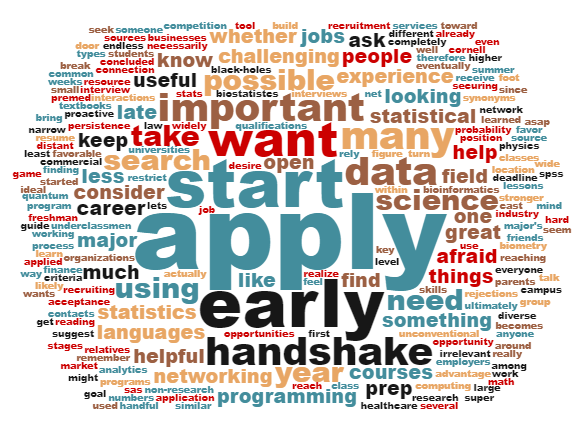 Advice from past students on research:
• There are plenty of encouraging PI's in the physical sciences who might want a statistical programmer in their lab, so reaching out to them is a great option.
• It's also important that you can make a significant time commitment to research. This means that researching in the summer is more ideal for you and the lab.
• Contact the researcher/professor directly and show interest in their research & passion for learning more in their field.
• Ask a professor. The worst they could say is no.
• When you're emailing professors about potential research positions in their labs, also consider emailing undergrads who are currently working in their lab to get a better understanding of what type of research they do and the process of how they got into that specific lab. You can find out who the undergrads are by visiting a lab's website.
• Reach out to professors directly
• DON'T BE SHY. Contact your professors and if they ignore you/say no, whatever. You don't need to rely on a job board.
• CURB (the undergraduate research board) posted a research posting I applied for and it had so many applicants.
• Research opportunities are not meant to be used to showcase your statistical prowess but to give you a chance to learn when and how to apply those skills. So don't be scared or get nervous that you might not be able to please your boss.
• The most important thing is to show that you're putting a lot of effort. Once you are comfortable, things will be much better and easier.
• Reach out to faculty members and propose a research idea
• Reach out to professors! They can be in any field, not just statistics or related fields. Your skills are applicable to every single department at Cornell, and you can learn a great deal by applying statistics to social sciences, linguistics, etc. Broaden your horizons and you'll surely find a research opportunity.
• If you hear any opportunities from faculty, do not be afraid to contact them directly about assisting in their research.
• Don't be afraid of taking graduate statistics and math courses. The way of studying undergrad statistics courses is radically different doing research in statistics. Directly reach out to the professors, even if the math formulae in their paper look scary.
• Don't be afraid to ask professors