Tuesday, September 27, 2022
Tune in the evening of Sept. 28th to see Sam Wang, assistant professor of statistics and data science, put his trivia knowledge to that test on the quiz show "Jeopardy!"
"I grew up watching 'Jeopardy!' and had always really enjoyed it," Wang said. "The game is fun because it's very different from my day-to-day job. You have to be quick with buzzing-in and answering, whereas in research I have problems that I think about slowly for a long time."
Wang joined the department in Fall 2021, and has wide-ranging research interests that span statistics, machine learning, and data science.
After trying out through the online test for years, Wang had almost given up, but applied one more time this past winter. Producers called him in April to schedule him for May – during the final week of classes. Wang had to delay, and ultimately was rescheduled for early August.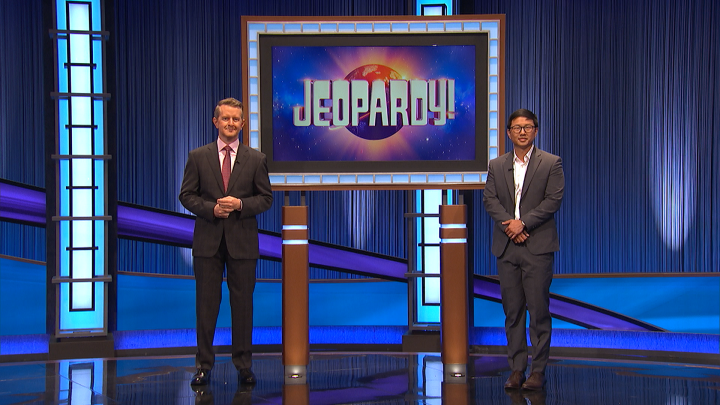 Wang flew out to Culver City, California to film on the Sony Pictures Studios lot, where they film five episodes of the quiz show per day. As he waited for his name to be chosen, he watched the tapings with the rest of the "Jeopardy!" hopefuls. "It definitely is nerve wracking," he said, "but it's also fun because you're sitting with the other contestants, who are just all super friendly. I mean, everyone wants to win, obviously, but everyone's just really happy to be there."   
Wang had prepared for the big day by using online study guides and listening to old episodes of the show. He also practiced buzzing in by clicking a ballpoint pen. "The big part of 'Jeopardy!' is not actually knowing the answer, it's really almost more about the buzzing," he said. Buzz in too early and you get locked out, but buzz in too late and someone else will answer first. "Can you buzz in and keep your cool?" 
While Wang can't reveal how he placed, he said that the whole experience gave him an inside understanding of just how challenging it is to compete on the show. "You realize it's just so much harder when you're under that pressure," Wang said. "I'm much more sympathetic to seeing people struggle on live TV than I had been previously."
To see Wang compete, viewers can find their local network affiliate and airtime on the "Jeopardy!" website.
Patricia Waldron is a writer for the Cornell Ann S. Bowers College of Computing and Information Science.